Evaluación del impacto de los programas de seguro de riesgo agrícola en los pequeños agricultores
| | | |
| --- | --- | --- |
| dc.contributor.author | International Initiative for Impact Evaluation (3ie) | |
| dc.coverage.spatial | África | es_ES |
| dc.coverage.spatial | América Latina y el Caribe | es_ES |
| dc.date.accessioned | 2020-02-10T16:03:55Z | |
| dc.date.available | 2020-02-10T16:03:55Z | |
| dc.date.issued | 2020-02-10 | |
| dc.identifier.citation | International Initiative for Impact Evaluation (3ie). (2020, February 10). Evaluación del impacto de los programas de seguro de riesgo agrícola en los pequeños agricultores. Caracas: CAF. Retrieved from http://scioteca.caf.com/handle/123456789/1527 | en |
| dc.identifier.uri | http://scioteca.caf.com/handle/123456789/1527 | |
| dc.description.tableofcontents | La agricultura es una fuente importante de sustento para las poblaciones rurales de países de ingresos bajos y medio bajos. No obstante, los agricultores enfrentan una serie de riesgos, incluido el riesgo de pérdida de cultivos y de ganado. Es por esto que se han creado programas de seguros de riesgo agrícola, que permiten mitigar problemas que puedan surgir antes de la comercialización de los bienes agrícolas. Con el objetivo de conocer los efectos de estos seguros, ya que existe evidencia limitada acerca del impacto de éstos, presentamos esta recopilación de evaluaciones de impacto llevada a cabo en 7 países, distribuidos entre Asia, África y América Latina. | es_ES |
| dc.language.iso | es | es_ES |
| dc.publisher | CAF | es_ES |
| dc.title | Evaluación del impacto de los programas de seguro de riesgo agrícola en los pequeños agricultores | es_ES |
| dc.type | Other | es_ES |
| dc.publisher.city | Caracas | es_ES |

Files in this item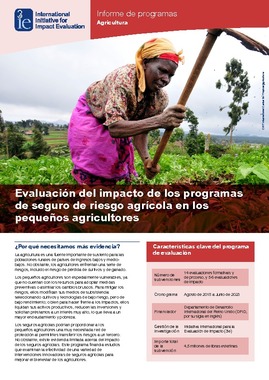 Name:

Evaluacion_del_impacto_de_los_ ...

Size:

3.672Mb

Format:

PDF

Description:

Evaluación del impacto de los ...
This item appears in the following Collection(s)
7.2 Evidencia rigurosa - Aliados CAF
Repositorio de contenidos de divulgación de evidencia rigurosa, elaborados por aliados como 3ie, BIT y The Campbell Collaboration y traducidos al español por CAF-banco de desarrollo de América Latina.