Las escuelas de campo para agricultores mejoran las prácticas agrícolas, los rendimientos e ingresos en programas piloto pequeños, pero no en programas a gran escala
| | | |
| --- | --- | --- |
| dc.contributor.author | Waddington, Hugh | |
| dc.contributor.author | Snilstveit, Birte | |
| dc.contributor.author | Hombrados, Jorge | |
| dc.contributor.author | Vojtkova, Martina | |
| dc.contributor.author | Phillips, Daniel | |
| dc.contributor.author | Davies, Phillip | |
| dc.contributor.author | White, Howard | |
| dc.coverage.spatial | América Latina y el Caribe | es_ES |
| dc.date.accessioned | 2018-09-13T20:52:55Z | |
| dc.date.available | 2018-09-13T20:52:55Z | |
| dc.date.issued | 2018-09-13 | |
| dc.identifier.citation | Waddington, H., Snilstveit, B., Hombrados, J., Vojtkova, M., Phillips, D., Davies, P., & White, H. (2018, September 13). Las escuelas de campo para agricultores mejoran las prácticas agrícolas, los rendimientos e ingresos en programas piloto pequeños, pero no en programas a gran escala. Caracas: The Campbell Collaboration. Retrieved from http://scioteca.caf.com/handle/123456789/1273 | en |
| dc.identifier.uri | http://scioteca.caf.com/handle/123456789/1273 | |
| dc.description.tableofcontents | Las escuelas de campo para agricultores amplían el conocimiento de los agricultores y su adopción de mejores prácticas, así como aumentan la producción agrícola y los ingresos. No obstante, el conocimiento de mejores prácticas no se extiende a los agricultores vecinos que no participan en el programa, por lo que los programas a gran escala no son efectivos. | es_ES |
| dc.language.iso | es | es_ES |
| dc.publisher | The Campbell Collaboration | es_ES |
| dc.rights | CC-BY-NC | es_ES |
| dc.rights.uri | http://creativecommons.org/licenses/by-nc/4.0/ | es_ES |
| dc.subject | Evaluación de impacto | es_ES |
| dc.title | Las escuelas de campo para agricultores mejoran las prácticas agrícolas, los rendimientos e ingresos en programas piloto pequeños, pero no en programas a gran escala | es_ES |
| dc.type | Other | es_ES |
| dc.publisher.city | Caracas | es_ES |

Files in this item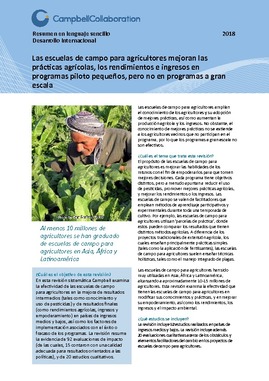 Name:

ES_0171_PLS_Farmer_field_schoo ...

Size:

552.4Kb

Format:

PDF

Description:

Las escuelas de campo para ...
This item appears in the following Collection(s)
7.2 Evidencia rigurosa - Aliados CAF
Repositorio de contenidos de divulgación de evidencia rigurosa, elaborados por aliados como 3ie, BIT y The Campbell Collaboration y traducidos al español por CAF-banco de desarrollo de América Latina.