La agricultura por contrato incrementa los ingresos para agricultores en mejores condiciones
| | | |
| --- | --- | --- |
| dc.contributor.author | White, Howard | |
| dc.coverage.spatial | América Latina y el Caribe | es_ES |
| dc.date.accessioned | 2018-09-11T16:27:15Z | |
| dc.date.available | 2018-09-11T16:27:15Z | |
| dc.date.issued | 2018-09-11 | |
| dc.identifier.citation | White, H. (2018, September 11). La agricultura por contrato incrementa los ingresos para agricultores en mejores condiciones. Caracas: The Campbell Collaboration. Retrieved from http://scioteca.caf.com/handle/123456789/1261 | en |
| dc.identifier.uri | http://scioteca.caf.com/handle/123456789/1261 | |
| dc.description.tableofcontents | La agricultura por contrato, un acuerdo de venta entre un agricultor y una empresa, es muy apreciada por el gobierno y los donantes. La agricultura por contrato puede producir importantes ganancias de ingresos para los agricultores. Además, estos beneficios pueden ser necesarios para que los esquemas de agricultura por contrato sobrevivan. Sin embargo, es más probable que los agricultores en condiciones favorables participen en planes de agricultura por contrato. | es_ES |
| dc.language.iso | es | es_ES |
| dc.publisher | The Campbell Collaboration | es_ES |
| dc.rights | CC-BY-NC | es_ES |
| dc.rights.uri | http://creativecommons.org/licenses/by-nc/4.0/ | es_ES |
| dc.subject | Agricultura | es_ES |
| dc.subject | Economía | es_ES |
| dc.subject | Evaluación de impacto | es_ES |
| dc.title | La agricultura por contrato incrementa los ingresos para agricultores en mejores condiciones | es_ES |
| dc.type | Other | es_ES |
| dc.publisher.city | Caracas | es_ES |

Files in this item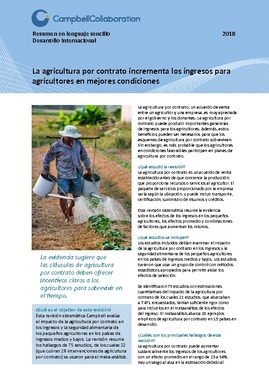 Name:

La_agricultura_por_contrato_in ...

Size:

524.5Kb

Format:

PDF

Description:

La agricultura por contrato ...
This item appears in the following Collection(s)
7.2 Evidencia rigurosa - Aliados CAF
Repositorio de contenidos de divulgación de evidencia rigurosa, elaborados por aliados como 3ie, BIT y The Campbell Collaboration y traducidos al español por CAF-banco de desarrollo de América Latina.