¿Pueden el asco y la vergüenza conducir al uso de agua limpia y al lavado de manos? Evidencia de impacto proveniente de Bangladesh
| | | |
| --- | --- | --- |
| dc.contributor.author | International Initiative for Impact Evaluation (3ie) | |
| dc.coverage.spatial | Asia | es_ES |
| dc.date.accessioned | 2018-06-04T19:48:19Z | |
| dc.date.available | 2018-06-04T19:48:19Z | |
| dc.date.issued | 2018-06 | |
| dc.identifier.citation | International Initiative for Impact Evaluation (3ie). (2018, June). ¿Pueden el asco y la vergüenza conducir al uso de agua limpia y al lavado de manos? Evidencia de impacto proveniente de Bangladesh. International Initiative for Impact Evaluation (3ie). Retrieved from http://scioteca.caf.com/handle/123456789/1198 | en |
| dc.identifier.uri | http://scioteca.caf.com/handle/123456789/1198 | |
| dc.description.tableofcontents | Para averiguar en qué forma el asco y la vergüenza pueden afectar las prácticas de uso de agua potable y el lavado de manos, 3ie brindó su apoyo a un equipo de investigación con el propósito de llevar a cabo un ensayo controlado aleatorizado provocado entre los años 2011 y 2014. Este estudio incluyó 650 complejos de viviendas en barrios marginales seleccionados de Dhaka, Bangladesh. | es_ES |
| dc.language.iso | es | es_ES |
| dc.publisher | International Initiative for Impact Evaluation (3ie) | es_ES |
| dc.rights | CC-BY-NC | es_ES |
| dc.rights.uri | http://creativecommons.org/licenses/by-nc/4.0/ | es_ES |
| dc.subject | Agua y saneamiento | es_ES |
| dc.subject | Residuos | es_ES |
| dc.subject | Salud | es_ES |
| dc.title | ¿Pueden el asco y la vergüenza conducir al uso de agua limpia y al lavado de manos? Evidencia de impacto proveniente de Bangladesh | es_ES |
| dc.type | Other | es_ES |

Files in this item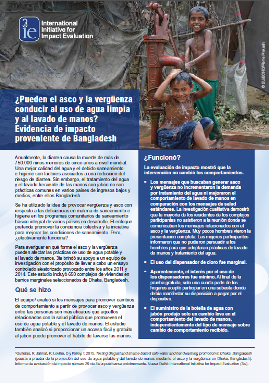 Name:

Uso de agua limpia_3ie Policy ...

Size:

1.066Mb

Format:

PDF

Description:

¿Pueden el asco y la vergüenza ...
This item appears in the following Collection(s)
7.2 Evidencia rigurosa - Aliados CAF
Repositorio de contenidos de divulgación de evidencia rigurosa, elaborados por aliados como 3ie, BIT y The Campbell Collaboration y traducidos al español por CAF-banco de desarrollo de América Latina.