Las cualificaciones docentes más altas se asocian a una educación y atención preescolar de mayor calidad
| | | |
| --- | --- | --- |
| dc.contributor.author | Campbell Collaboration | |
| dc.date.accessioned | 2018-03-14T22:39:55Z | |
| dc.date.available | 2018-03-14T22:39:55Z | |
| dc.date.issued | 2018 | |
| dc.identifier.citation | Campbell Collaboration. (2018). Las cualificaciones docentes más altas se asocian a una educación y atención preescolar de mayor calidad. Oslo: Campbell Collaboration. Retrieved from http://scioteca.caf.com/handle/123456789/1165 | en |
| dc.identifier.uri | http://scioteca.caf.com/handle/123456789/1165 | |
| dc.description.tableofcontents | Esta revisión sistemática Campbell analiza la evidencia actual sobre la correlación entre la cualificación de los maestros y la calidad del entorno de aprendizaje preescolar. El informe resume los hallazgos de 48 estudios con 82 muestras independientes. Los estudios comprenden a niños de pre-kínder y kínder, antes de la escuela primaria y de otros centros. | es_ES |
| dc.language.iso | es | es_ES |
| dc.publisher | Campbell Collaboration | es_ES |
| dc.rights | CC-BY-NC | es_ES |
| dc.rights.uri | http://creativecommons.org/licenses/by-nc/4.0/ | es_ES |
| dc.subject | Educación | es_ES |
| dc.subject | Evaluación de impacto | es_ES |
| dc.subject | Niñez | es_ES |
| dc.subject | Docentes | es_ES |
| dc.title | Las cualificaciones docentes más altas se asocian a una educación y atención preescolar de mayor calidad | es_ES |
| dc.type | Other | es_ES |
| dc.publisher.city | Oslo | es_ES |

Files in this item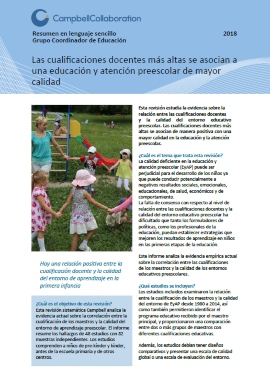 Name:

Las_cualificaciones_docentes_m ...

Size:

532.2Kb

Format:

PDF

Description:

Las cualificaciones docentes más ...
This item appears in the following Collection(s)
7.2 Evidencia rigurosa - Aliados CAF
Repositorio de contenidos de divulgación de evidencia rigurosa, elaborados por aliados como 3ie, BIT y The Campbell Collaboration y traducidos al español por CAF-banco de desarrollo de América Latina.