Tribunales de drogas: son más eficaces en la reducción del consumo de drogas y la reincidencia en adultos que en menores
| | | |
| --- | --- | --- |
| dc.contributor.author | Campbell Collaboration | |
| dc.coverage.spatial | Estados Unidos | es_ES |
| dc.date.accessioned | 2018-01-10T20:55:38Z | |
| dc.date.available | 2018-01-10T20:55:38Z | |
| dc.date.issued | 2017-12 | |
| dc.identifier.citation | Campbell Collaboration. (2017, December). Tribunales de drogas: son más eficaces en la reducción del consumo de drogas y la reincidencia en adultos que en menores. Oslo: Campbell Collaboration. Retrieved from http://scioteca.caf.com/handle/123456789/1147 | en |
| dc.identifier.uri | http://scioteca.caf.com/handle/123456789/1147 | |
| dc.description.tableofcontents | Esta revisión sistemática Campbell evalúa la efectividad de los tribunales de drogas en la reducción de conductas delictivas o de consumo de drogas (reincidencia). La revisión resume los hallazgos de 154 estudios, todos los cuales reportan evidencia proveniente de tribunales de drogas para adultos, tribunales de drogas para DWI, y tribunales de menores. Todos, excepto ocho de los estudios, son de tribunales de drogas en Estados Unidos. | es_ES |
| dc.language.iso | es | es_ES |
| dc.publisher | Campbell Collaboration | es_ES |
| dc.rights | CC-BY-NC | es_ES |
| dc.rights.uri | http://creativecommons.org/licenses/by-nc/4.0/ | es_ES |
| dc.subject | Jóvenes | es_ES |
| dc.subject | Evaluación de impacto | es_ES |
| dc.subject | Políticas públicas | es_ES |
| dc.subject | Salud | es_ES |
| dc.subject | Trabajo y protección social | es_ES |
| dc.title | Tribunales de drogas: son más eficaces en la reducción del consumo de drogas y la reincidencia en adultos que en menores | es_ES |
| dc.type | Other | es_ES |
| dc.publisher.city | Oslo | es_ES |

Files in this item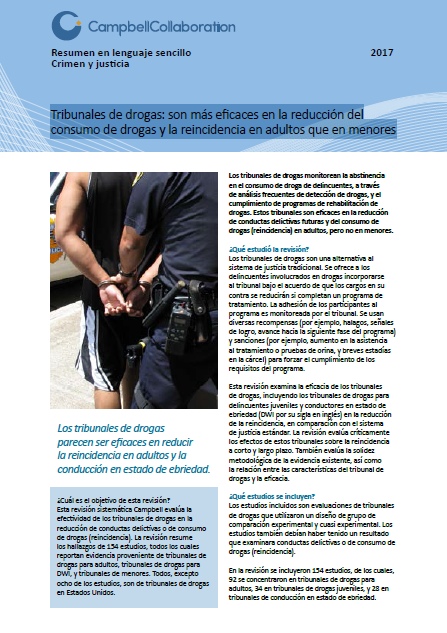 Name:

ES-0108_cjcg_pls_Mitchell_Drug ...

Size:

480.0Kb

Format:

PDF

Description:

Tribunales de drogas: son más ...
This item appears in the following Collection(s)
7.2 Evidencia rigurosa - Aliados CAF
Repositorio de contenidos de divulgación de evidencia rigurosa, elaborados por aliados como 3ie, BIT y The Campbell Collaboration y traducidos al español por CAF-banco de desarrollo de América Latina.